Etonline Celebrity News or Entertainment Tonight, often referred to as just ET, is a US syndicated news magazine show. It finds its way into households across the USA through the efforts of CBS Media Ventures. Paramount Streaming proudly holds ownership of this delightful show. And guess what? ET even graces the screens of viewers in Australia, thanks to Network 10.
Etonline Celebrity News Format
The show's structure revolves around captivating tales from the world of entertainment, behind-the-scenes peeks during set visits, sneak peeks into upcoming movies and TV shows, plus in-depth chats with musicians, actors, and many notable figures in the entertainment world.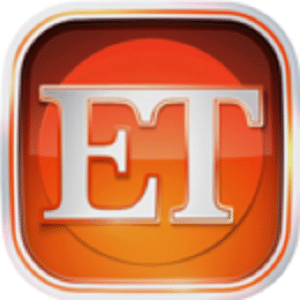 Credit: Wikipedia // They stuck with this logo until 2014. But here's the interesting part: all the logos you've seen on your screens since 1994 have a special connection to that iconic "E" and "T" from the original 1981 logo. They've kept it simple and chic, using only the short and sweet "ET" name.
They introduced a one-hour weekend version called ET Weekend, formerly branded as Entertainment This Week until 1991. Initially, it summarized the week's entertainment news, but later, most episodes started focusing on special themes. Today, some episodes follow either format, but mostly, they replay stories from the previous week's editions.
ET Radio Minute is a daily radio segment syndicated by Westwood One.
In 2021, Nischelle Turner and Kevin Frazier took charge of the weekday broadcasts, while Matt Cohen, Nischelle Turner, and Kevin Frazier hosted the weekend editions.
Etonline Celebrity News History
When Entertainment Tonight first hit the screens in 1981, it took a local newscast-style approach. Back then, its main focus was on the latest happenings in the world of movies, music, and television.
In a notable move, they inked an exclusive deal to cover the controversial wedding of Mary Kay Letourneau, a convicted child molester who married her former student, Vili Fualaau. They also delved into the legal battles surrounding Anna Nicole Smith, including her funeral and her daughter's paternity case, represented by attorney Howard K. Stern.
Entertainment Tonight made history when they covered the premiere of "Emissary", the inaugural episode of Star Trek: Deep Space Nine, making this premiere the most-watched episode ever on any syndicated series.
George Clooney made headlines again in 1996 when he took the decision to shun Entertainment Tonight as an act of protest against intrusive paparazzi coverage caused by Hard Copy magazine's expose about his personal life. This decision went against an agreement he had with Paramount which syndicated and produced both shows; Clooney wrote them an open letter informing them of this plan while encouraging his close friends to follow his lead.
Etonline embracing HD television
On September 8th 2008, Entertainment Tonight made the leap into high-definition television. It made an associated move by shifting studio operations and production from Stage 28 on the Paramount Pictures studio lot to the newly constructed Stage 4 at CBS Studio Center. This marked one of the last steps in merging Paramount Domestic Television into CBS' distribution network and adopting its new name of CBS Television Distribution after it split from the original Viacom by the end of 2005.
After an onslaught from actors Dax Shepard and Kristen Bell on social media, ET boldly declared in February 2014 that they no longer would accept paparazzi photos or videos of children of celebrities by paparazzi photographers.
Notably, this show holds the record for being the longest daily show ever syndicated and produced.
ET Live
Back in November 2018, CBS introduced something exciting—a free, around-the-clock streaming service called ET Live. This service brings the familiar faces of the show's correspondents to your screens and offers even more in-depth entertainment news coverage. You can access it through apps, web browsers, and, as of November 2019, the 100% free streaming platform Pluto TV.
Mixible
In July 2022, they made an exciting announcement about a transformation. The service was set to undergo a rebranding and take on a fresh identity as Mixible. Even though it would still feature a mix of pop culture, lifestyle, and entertainment-related content, including ET's The Download, there was a twist. Mixible would now bring in more content from additional Paramount Global assets like VH1, MTV, ComicBook.com, Awesomeness, The Drew Barrymore Show, and Inside Edition, giving viewers an even richer experience.
Final Thoughts
By 2007, even with rivals like The Insider and the broader-focused newsmagazine Inside Edition, both under the CBS Television Distribution umbrella, Etonline Celebrity News managed to hold its ground. It secured a spot in the top 10 highest-rated syndicated shows, as per the weekly Nielsen ratings. In the 2007–08 season, the show's daytime ratings danced between the fourth and fifth positions, often battling it out with another CBS-syndicated show, Judge Judy, for viewers' attention.
We hope you found the information about Etonline Celebrity News very useful. Before you go, check Amy Schumer's hilarious warning for those in their 20s. Don't forget to follow us on Facebook to receive the latest celebrity news and gossip.