Amy Schumer had a valuable message for those navigating their twenties: a stark reminder of the relentless march of time. The 42-year-old comedian decided to make a poignant point by juxtaposing images of her younger, vibrant self with a recent, rather jarring snapshot.
Amy shared a series of throwback photos in her Instagram post that transported viewers to a bygone era. These pictures depicted her in her youthful prime, donning a sleek, mini bandage dress at a comedy event in 2012. She accompanied the photos with a caption that humorously cautioned the 20-somethings of the world: "Warning 20-somethings. I looked like this at your age." It was a clever twist, considering that she herself was 31 when those radiant snapshots were captured.
But Amy didn't stop there. She went on to share a particularly striking photo that told a more somber story. In this image, she was seen connected to an intravenous drip, draped in a hospital gown, her hair in disarray as it spiraled chaotically around her pensive countenance. The caption accompanying this image was both profound and ominous, as she stated, "Life is coming for you."
To drive her point home further, Amy extended her message to her Instagram Story, where she addressed the young women in their twenties with a candid tone. In this digital narrative, she playfully remarked, "Girls in your 20s, guess what? I looked like you, too." But beneath the jest, the underlying message remained clear: "Life is coming for you, my friends." Her words carried a mix of humor and heartfelt wisdom, resonating with her audience in a way only she could manage.
Schumer shared photos of herself attending an event in 2012. / Image Credit: WireImage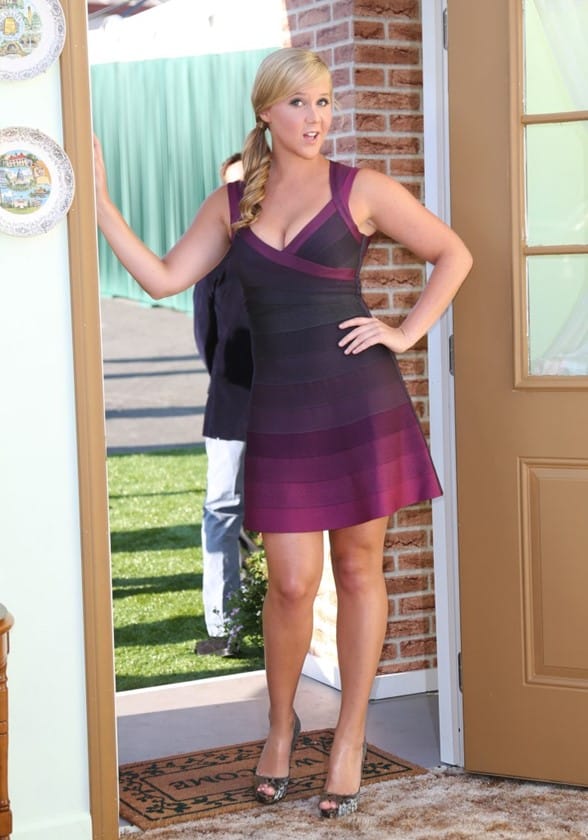 "Warning 20 somethings. I looked like this at your age," she captioned the old photos. / Image Credit: FilmMagic
Amy Schumer left her fans with a touch of mystery as she didn't specify when or why the hospital snapshot was taken. Nonetheless, her followers quickly rallied around her, expressing their unwavering support for the beloved comedian.
In the comments section of her post, admirers showered her with compliments, emphasizing the depth of her beauty that transcends any circumstances. One fan lovingly wrote, "Love you in all shapes and sizes," while another simply exclaimed, "Omg!! I love you!" Their words were a testament to the genuine connection Schumer shares with her audience.
The actress is in a hospital bathroom. Amy Schumer/Instagram
Moving on, Amy didn't shy away from revealing the more recent photo where she appeared disheveled while in a hospital bathroom, still donning the iconic hospital gown. Once again, her followers chimed in, this time highlighting her grace and beauty.
Amy's candidness struck a chord with many, who echoed her sentiments about the swift passage of time. One fan remarked, "It happens SUDDENLY too. Overnight," while another praised her for showing the world the unfiltered realities of life.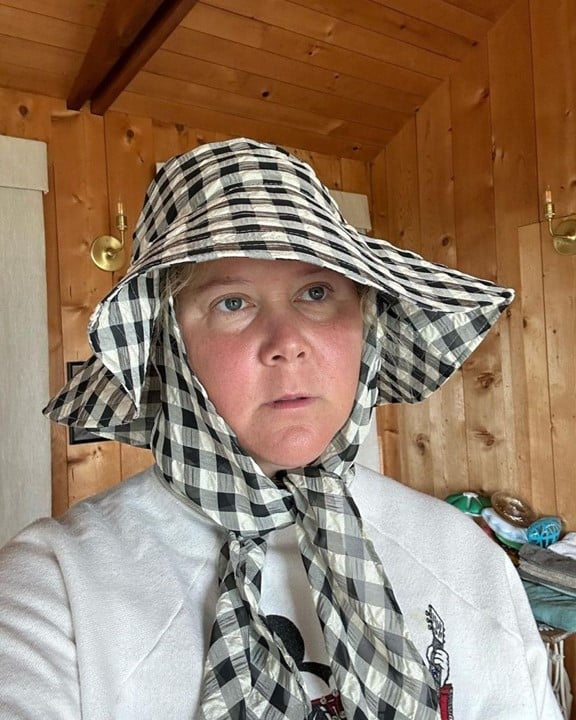 Amy Schumer/Instagram
A sense of camaraderie emerged in the comments, with fans humorously acknowledging the challenges of aging. One follower humorously noted, "It's all fun and games until your 4th decade," reminiscing about the days when they may have taken their youthful bodies for granted. Another fan playfully regretted not embracing the bikini top and cut-off look year-round.
The authenticity and relatability of Amy Schumer have endeared her to her fans. She has consistently shared her life's ups and downs, from revealing her "bad" back tattoo and her struggles with a hair-pulling disorder to her candid discussions about cosmetic surgery procedures.
In December 2021, Schumer candidly shared her experience with fillers in her cheeks, even poking fun at herself by comparing her look to Disney's Maleficent. A month later, she opened up about getting liposuction, a decision she made as part of her journey dealing with endometriosis and surgeries to remove her uterus and appendix.
Amy Schumer's willingness to be authentic and transparent continues to resonate with her fans, making her more than just a comedian but a relatable and beloved figure in their lives.