Love fast cars? Too bad you're not a celebrity. Them lucky stiffs. Not only can they afford the fastest vehicles. Sometimes you can find them behind the wheel of actual racing cars just having a good old time. Here are seven celebrities that love fast cars and we hate them all.
James Garner
Jim Rockford didn't drive a sports car by accident. The star of the classic p.i. show, The Rockford Files, developed a love of the car while shooting Grand Prix. After that, he couldn't spend enough time behind the wheel. He did his own stunt driving.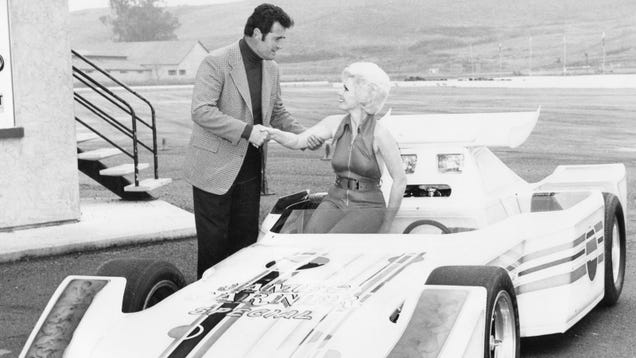 Paul Newman
The Academy Award winning Newman is probably the most accomplished and successful celebrity racer of all time. He had a natural ability behind the wheel that even pro racers admired. He actually won at Daytona. And the man was 70 years old.
Frankie Muniz
Maybe it was just a youthful phrase, but the star of Malcolm in the Middle showed a lot of potential behind the wheel. He'd worked his way from Formula BMW to Formula Atlantic and many believe he has the skills to go as far as Indy.
James Dean
The moody film star only made three movies but his legacy is admired to this day. So were his skills behind the wheel. By all accounts, the man had incredible driving skills, which makes how he died all the more ironic.
Rowan Atkinson
This is probably the most surprising name on the list. Usually playing befuddled innocents like Mr. Bean, Atkinson was a former Renault 5 Turbo racer and has even driven with the guy that owns the Aston Martin. Not an Aston Martin either. The Aston Martin period.
Patrick Dempsey
The man referred to as McDreamy is cultivating a reputation behind the wheel that often gets him compared to Paul Newman. Dempsey is committed to racing. So much so that unlike a lot of his celebrity peers he schedules his acting around his races.
Steve McQueen
No one that's seen him drive can deny McQueen had the chops to be a professional driver. He almost beat racing legend Mario Andretti in Sebring. He planned to hit the pavement at Le Mans, but studios prevented it to keep him safe for their movies.
Some of us aren't lucky enough to have the resources, let alone the talent, to get behind the wheel and put it to the test. Instead, you have to get behind your SUV and push the boundaries before the light changes or you end up with a NYC traffic ticket or ticket in your local city.
Follow us on Twitter and Facebook to get the latest news on celebrities!